NEW PROGRAMME 2021!
We are very happy to announce that due to securing some much needed funding our centre will be opening in 2021 with an extended programme!
We will now we be open from 9.30am – 3pm five days a week.
Everyone is welcome to attend the classes and workshops that interest them and there is something for everyone. The goal and overall aim for our health and wellbeing centre will always be to provide opportunities for connection, support and recovery through various creativity and wellbeing focused workshops and classes.
Our Tuesday Inclusive Art class has been tailored for those with additional support needs. There is a limited number of spaces for this so please get in touch if you are interested in attending.
Our Friday morning workshops will involve a variety of different speakers and guests from various organisations and also craft classes and live performances. We will be advertising details of these a week in advance so keep an eye out on our Facebook page.
Our evening classes are continuing to evolve and these are proving popular. There are limited spaces for these classes also so please also contact us if you'd like to attend.
If you are interested in learning more about what we offer please get in touch. All classes and workshops are free, although koha is appreciated.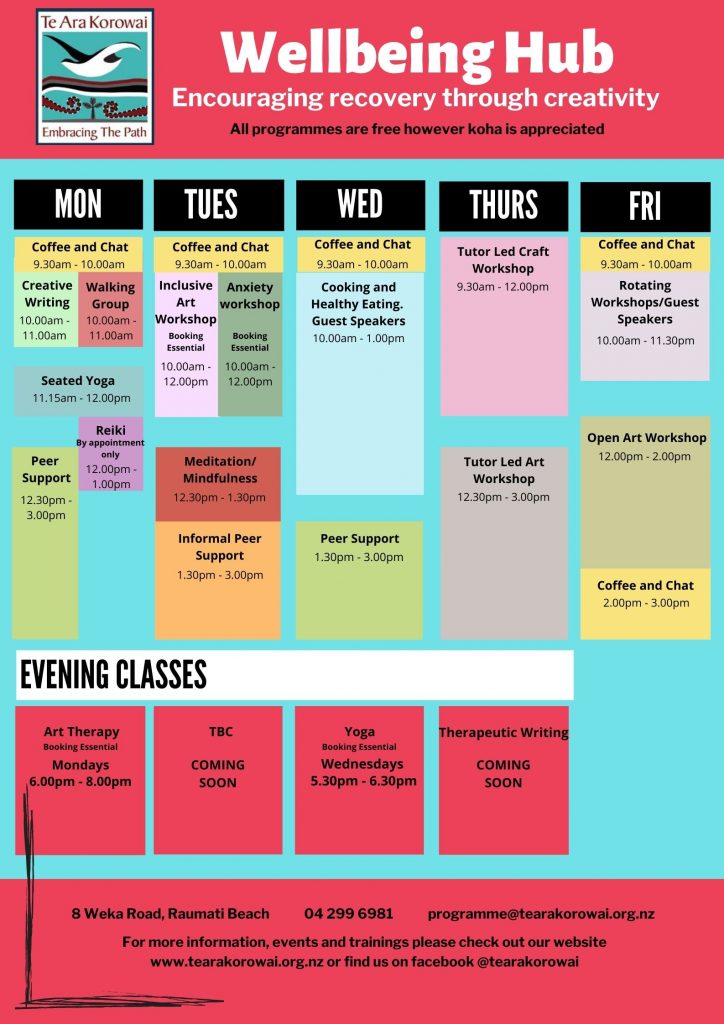 There is plenty of research about the benefits to our mental health of participating in creative arts within a safe space. It may be one of the few places you can express yourself safely, have some control over what you do and learn skills within a supportive environment.
UNDERSTANDING THE IMPORTANCE OF CREATIVE SPACES REPORT
You don't have to be arty to join in the wide range of arts & crafts that our tutors bring including yarn bombing, drawing, shading, painting, and creative writing.
Death Café – Usually every 6 weeks on Sundays 1 – 3 p.m. lead by Grace McGregor and Shona McNeil.  Next meeting dates 6th October & 24th November 2019.We also offer external workshops, click links below for more information.